Right now I'm enjoying the view from 51st floor at Trump Hotel in Las Vegas, after 3 amazing days in Hollywood, Santa Monica and Los Angeles. I will keep you posted. This is my blogpost from the plane sunday morning, I haven't been able to post it before now, so here it comes.
At this very moment I find myself 36 000 feet (10972 m) over Regina, Canada. We've been flying for soon 9 hours and the worst turbulence is past us. The ground speed is 515 mph (822 km/h), yet it is a couple of hours and 1293 miles (2081 km) left to our destination goal, Los Angeles.
I can clearly see the land underneath me. Some small, puffy, perl white skies leaves shadow prints at the huge land arias 36 000 feet underneath us. I don't have the number of passengers, but the lovely stewardess nicely informed me that the flight is fully booked. There is not one seat available. The British AirWays crew have been very easy to reach at all time and smiles politely every time they pass. They seem to really enjoy their job. How amazing isn't it to have your office thousands of feet in the air - in this fascinating, huge aircraft. This Boeing 747-400 has led us through a whole lot of turbulence today, stating how robust it really is.
All seats are provided with a blanket, a pillow, a headset and a number of other useful things. Each passenger posses it's own interactive mini-TV which is making the 11-hour flight go by a lot faster. I have amused myself with all kinds of TV-shows, from The Simpsons and Big Bang Theory, to movies such as Toy Story and Avatar and audio-shows about The Lyrics of Bob Dylan and Marian Keyes' The Other Side of the Story. I've also enjoyed following the flight on a moving map and reading about American immigration history.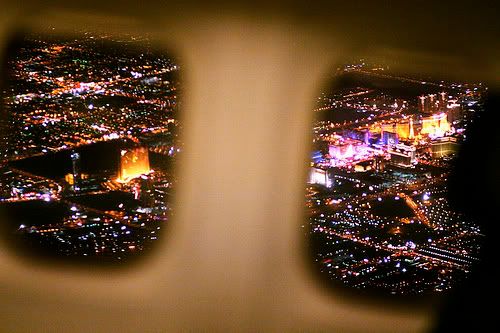 Of course my faithful Macbook is traveling along with me, as well as Gossip Girl - and together they've kept me more awake, than asleep since we left London and Heathrow at 12.30 p.m this morning. Norwegian time it is already 9.50 p.m, this is actually the only thing telling me we've been awake and traveling for a long time. Our journey started when we left our house about 15 minutes past five this morning. Our flight from OSL, Gardermoen (Norway) left at 07.50 a.m and after two hours we landed safely at Heathrow, London - where I enjoyed a lovely breakfast and the best frappeccino in the world at Starbucks this morning.
I mentioned that taking a look at the clock is the only thing telling me we've been traveling for a long time. It's weird. Feels like we left home yesterday. A feeling hard to explain. Feels like I've lost track of the time. It's like traveling back in time. Left Heathrow at 12.30 p.m - arriving in L.A at 2.17 p.m, when it is an 11 hour flight. I can't help being fascinated.
My brother just woke up next to me, meaning I will definitely not getting any sleep for the remaining two hours. My little sister is designing clothes two seats to my left and and my brother is sitting next to me. Both my mom and I have possessed the window seats. Dad is a mid-seat guy - or wherever it's available. Maybe he's just making sure we're comfortable.
I can't think of anything better than looking out of the windows. Lucky as I am, we are sitting at row 45 and 46 - way behind the wings, meaning I have the best view. Couldn't ask for anything better.
After almost six hours in my seat - it's about time to start my blood circulation again. And after five glasses of water and juice the past six hours, it's time to visit the lady's room.