Last year I bought my beloved Ilse Jacobsen wellingtons. But ever since my mom came home with the most amazing Hunter wellingtons from Sweden, I've been desperately seeking a new pair. My mom's Hunter are in black crocodile skin and I simply adore them. UNTIL I found the most amazing one's today! They're from Hunter as well, but a bit more rocked. I was thinking of different ways to wear them, and they look amazing no matter what you wear with them. I put together some outfits to see how much they actually look good with anything. I bet you could even rock them with a college sweater.
Here with a jacket from Stella McCartney, Burberry hand bag and with a bow (Blair Waldorf style) or a huge hat. Love it.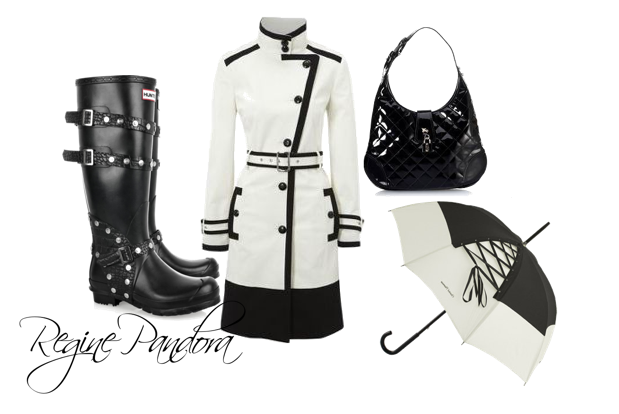 Secondly, they look really good with a more "classy" style. A long trench coat- a bit Chanel inspired - with a matching umbrella and the same Burberry hand bag.
They also look very good worn with a more classic outfit. With a lovely beige trench coat from Burberry, the Burberry hand bag, some gorgeous sunglasses and gloves from Asos.com.
I need these. When I'm bored at work the upcoming days - I'll be thinking about them.
Nighty night, now it's bed time. Tonight I'll be falling asleep to Dylan's Mississippi.
Perfect.
xx,